One of the world's top clothing manufacturers (with global sales of $2.4 billion), Benetton has experienced some ups and downs in managing its brand equity. Benetton built a powerful brand by creating a broad range of basic and colorful clothes that appealed to a wide range of consumers. Their corporate slogan, "United Colors of Benetton," would seem to almost perfectly capture their desired image and positioning. It embraces both product considerations (the colorful character of the clothes) and user considerations (the diversity of the people who wore the clothes), providing a strong platform for the brand. Benetton's ad campaigns reinforced this positioning by showing people from a variety of different racial backgrounds wearing a range of different-colored clothes and products.
Benetton's ad campaigns switched directions, however, in the 1980s by addressing controversial social issues. Created in-house by famed designer Oliviero Toscani, Benetton print ads and posters featured such unusual and sometimes disturbing images as a white child wearing angel's wings along- side a black child sporting devil's horns; a priest kissing a nun; an AIDS patient and his family in the hospital moments before his death; and, in an ad run only once, 56 close-up photos of male and female genitalia. In 1994, Benetton launched a $15 million ad campaign in newspapers and billboards in 110 countries featuring the torn and bloodied uniform of a dead Bosnian soldier. In 2000, a campaign titled "We, on Death Row" showcased U.S. death row inmates with pictures of the prisoners and details about their crimes and length of incarceration.
Critics labeled these various campaigns gimmicky "shock" advertising and accused Benetton of exploiting sensitive social issues to sell sweaters. One fact is evident. Although the campaigns may have succeeded with a certain market segment, they were certainly more "exclusive" in nature—distancing the brand from many other consumers—than the early Benetton ad campaigns, which were strikingly inviting to consumers and "inclusive" in nature. Not surprisingly, the new ads were no always well received by its retailers and franchise owners.
The ad displaying the dead Bosnian soldier received an especially hostile reaction throughout Europe. In the United States, some of Benetton's more controversial ads were rejected by the media, and Benetton's U.S. retailers commissioned their own campaign from TBWA/Chiat/Day ad agency in an attempt to create a more sophisticated image for the brand. After the death row ads debuted, Sears pulled the brand from shelves of its 400 stores. Response from U.S. consumers was equally negative: U.S. sales of Benetton products shrank by 50 percent to $52 million between 1993 and 2000. By 2001, the number of Benetton stores in the United States dropped to 150 from 600 in 1987.
Since 2001, Benetton's advertisements have featured more conventional images—teenagers in colorful Benetton clothing. Benetton maintained that the company would maintain its "socially responsible" status by focusing on noncontroversial themes like racial discrimination, poverty, child labor, AIDS awareness, and so forth. Accordingly, a variety of campaigns were introduced in the ensuing decade, such as "Food for Life" and "Microcredit Africa Works." The first decade in the new millennium, however, saw the emergence of fierce competition from Zara, H&M, and others. Lacking the same vertical integration and "fast fashion" business practices and having lost brand momentum, Benetton found itself surpassed by its more nimbler, popular rivals.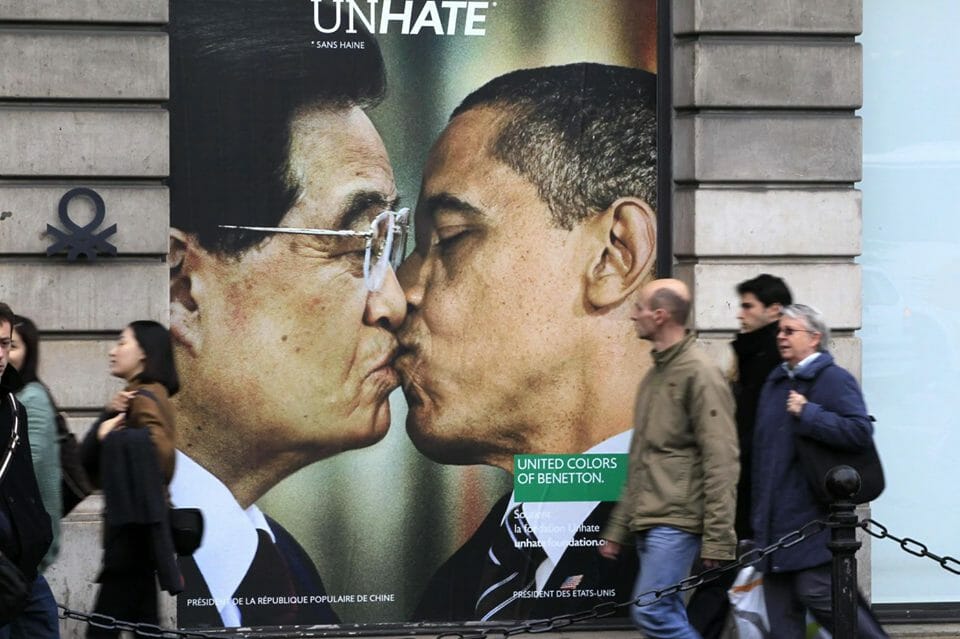 Bennetton has never been afraid to court controversy with its advertising, although it has sometimes been to the detriment of the brand.
Source: Newscom